Zennio

Hotel Solution combines the outstanding control properties of KNX with the scalability of IP networks and the possibilites of API integration. It also offers limitless integration with hotel services, apps and 3rd party systems. Fully customizable switches fit in every interior design. Last but not least, Zennio solutions can be installed in combination with conventional switches.
Room control
One of the main purposes of this solution is individual room control. This includes lighting, audio, HVAC, shutter, scenes and access control, energy monitoring, room occupancy and DND/MUR. Zennio's Advanced Occupancy Management provides automation of the settings according to the guest's behavior as shown below.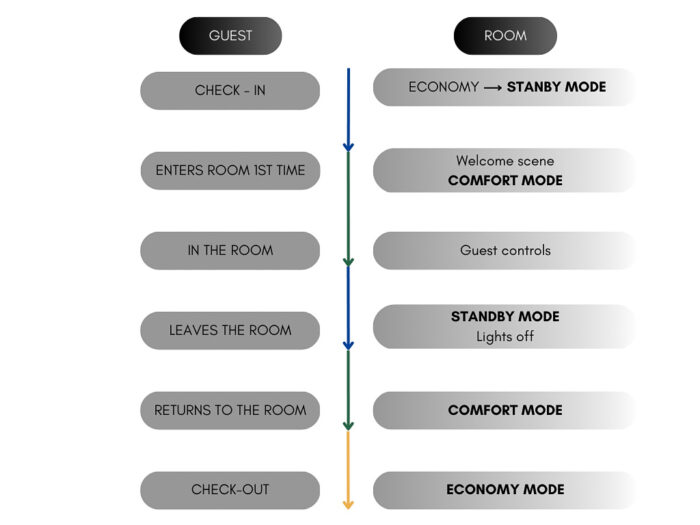 Common Areas control
Similar to room control, in common areas it's possible to control lighting, HVAC, shutters, access, scenes but also monitor energy consumption.
Access Control
Moreover, the hotel solution enables In-Wall (IWAC) and In-Door (IDAC) access control using mobile or card key. 
GRMS (Guest Room Management System)
Zennio – Building Management System (ZBMS) supervises room and common areas control and gives insights about energy monitoring, maintenance, reports and room policies.
App Control (Z-guest)
Zennio Z-Guest app provides simple room control via mobile phone or tablet. The app enables DND/MUR and Room occupancy features, too. Also, there is possibility of system integration in the third party apps. Z-Guest app is avaliable on Google Play and App Store. 
Integration
Zennio Suite Hotel – Application Programming Interface (ZSH – API) offers limitless integration between hotel applications. Additionally, API allows all third-party services to share information and work together.
Project design & remote support
We work closely with Zennio's design team to meet clients specifications. Nevertheless, our dedicated remote support team ensures the hotel solution is always working seamlessly.
Sustainability
In the end, Zennio hotel solution is distinguished by energy efficiency, CO2 footprint reduction, running costs cut and preventive maintenance.
Customized Zennio products from our showroom
Feel free to visit our showroom and explore Zennio products.
Tags: