Throughout 70 years of innovation, Cabasse has become a pioneer in developing coaxial drivers for a 7 channel Cinemascope Movie theater brand, 3-way active speaker (with dual bass), quadri-coaxial speaker, Wi-Fi speaker, wireless active high-resolution speaker and many more devices. All products are recognizable by advanced technologies, compactness and acoustic prowess. Here's a review of The Pearl Collection by Cabasse, high-end speakers which adapt to and enhance all types of interiors. 
"The Pearl Collection – with its original jewel-designed speakers, was born to meet the new listening quality requirements of today's digital content, while preserving the best of acoustics."
The Pearl Pelegrina is the masterpiece of The Pearl collection. It will satisfy even the most demanding audiophiles with the purest sound, easy access to music and the latest technological innovations.  This limited collection of only 70 unique speaker pairs is nothing less than a privilege for lucky owners. It combines the famous tri-coaxial speaker with a compact sphere of only 42cm diameter. The electronics are miniaturized and concealed in the base. The Pearl Pelegrina has 4 separate amplifiers totaling 3700 RMS W per speaker power. Exceptional sound reproduction and an impressive dynamic capacity (134 dB: the equivalent noise level of aircraft at take-off). It brings a live performance experience right in your living room!
The Pearl is an active high-resolution connected speaker suitable for rooms larger than 35 m2. It incorporates the new 25 cm subwoofer with up to 30 mm of long linear cone excursion. Audio playback is spectacular due to dynamic bass control. "The patented triaxial configuration of the subwoofer + medium + tweeter drivers offer compact design, powerful performance and sophisticated 360° response." Use a wall support bracket to fix to any wall or use a custom-built floorstand. As all speakers from this collection, it integrates within the Cabasse StreamCONTROL multi-room system so you can simultaneously play the same music in multiple rooms or different tracks in different rooms. It comes with its own ergonomically designed Bluetooth remote control with a refined finish.
The Pearl Akoya  is suitable for rooms between 20–35 m2. Its compactness is unrivaled because of its tri-coaxial design and specific bass loudspeaker. It offers voice control, multiroom and also features automatic calibration. A custom made stand and transport case are available. Bluetooth remote control enables you to easily and intuitively control the speaker wirelessly.
The Pearl Keshi is the first 2.1 connected system consisting of a connected subwoofer and two satellite speakers. It sits suspended in the air limiting the transmission of vibrations to the floor. The satellites feature a brand-new patented driver powered by 300 Watts RMS per speaker. Such a minimalist system capable of delivering 1050 Watts RMS of total power allows  listeners to hear the sound without any clipping or distortion. The Pearl Keshi integrates the best Cabasse technologies – DEAP for an optimized digital signal, DFE for real-time optimization of the sound dynamics and CRCS via the presence of a microphone integrated in the speaker. A wall fixture system has also been integrated to enable speakers to be placed in 5 adjustable positions as well as on-base position. Bluetooth remote control fits into the palm of your hand and makes for easy and intuitive control of the Pearl Keshi speakers.
The Pearl Sub is "a high-resolution active connected subwoofer capable of delivering maximum dynamics, with deep bass and sound optimized for each speaker (DEAP technology), auditorium-quality room correction and high-resolution streaming." The first high-definition 2.1-connected active subwoofer in the world eliminating the need for separate amplifiers and subwoofers. It is equipped with a 25 cm woofer powered by 2000 watts (peak) and Bluetooth and Wi-Fi connectivity. It also integrates into the Cabasse StreamCONTROL multiroom system and comes with Bluetooth remote control.
The Pearl Collection Specifications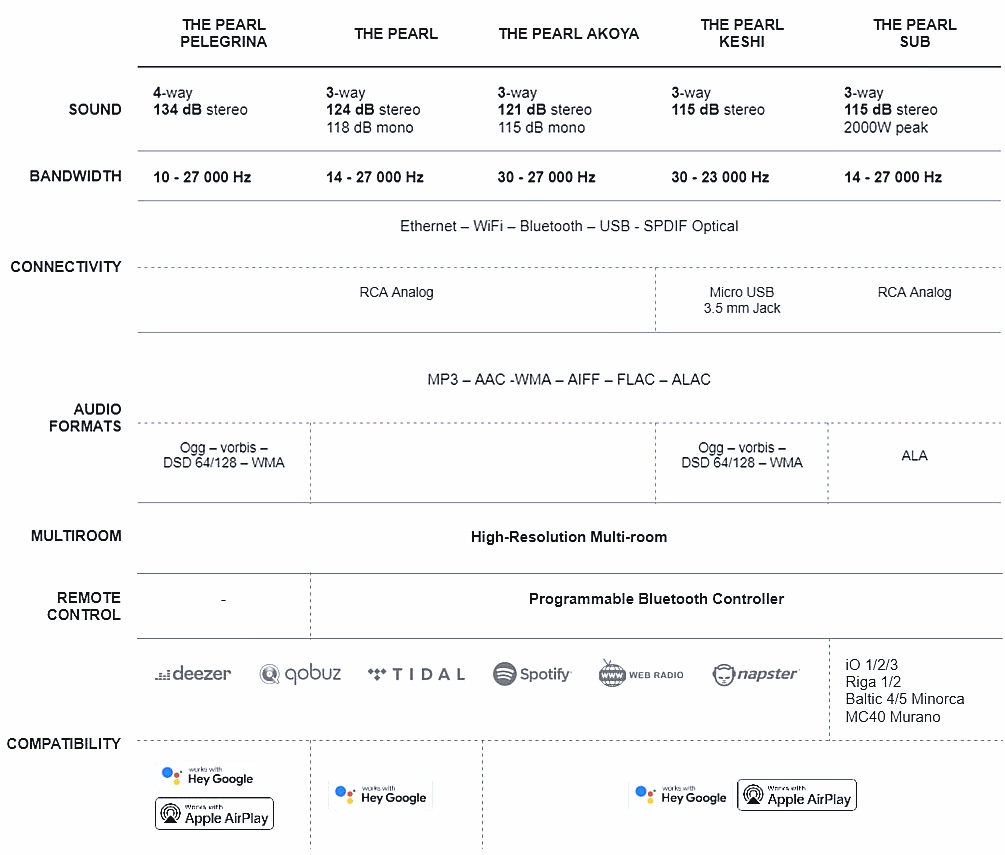 The entire Peal Collection supports AirPlay, Hey Google and of course – the Cabasse StreamCONTROL app – a platform that offers you a complete range of streaming services, compatible with voice assistants and numerous control options.

Choosing a product from this collection will not only provide you with an exceptional audio experience but also with an easy remote control and reliable sound system.

FIND OUT MORE: The Pearl Collection

Tags: