Smart hotel is the future happening now. In this article, we'll present smart hotel solution combining GRMS and EAE Mona series products.
Guest Room Management System (GRMS) by EAE technology is based on interactive technology that provides exceptional experience for guests and easier hotel management. Guest Room Management System consists of many field devices – Switches, Thermostats, Sockets, DND/MUR, Sensors, Card Holder, Bedside Panels and Welcome Panels. However, the solutions of the Mona product series are used in house, residence, office and hotel projects. Let's find out more about those devices.
DND/MUR INFORMATION DISPLAY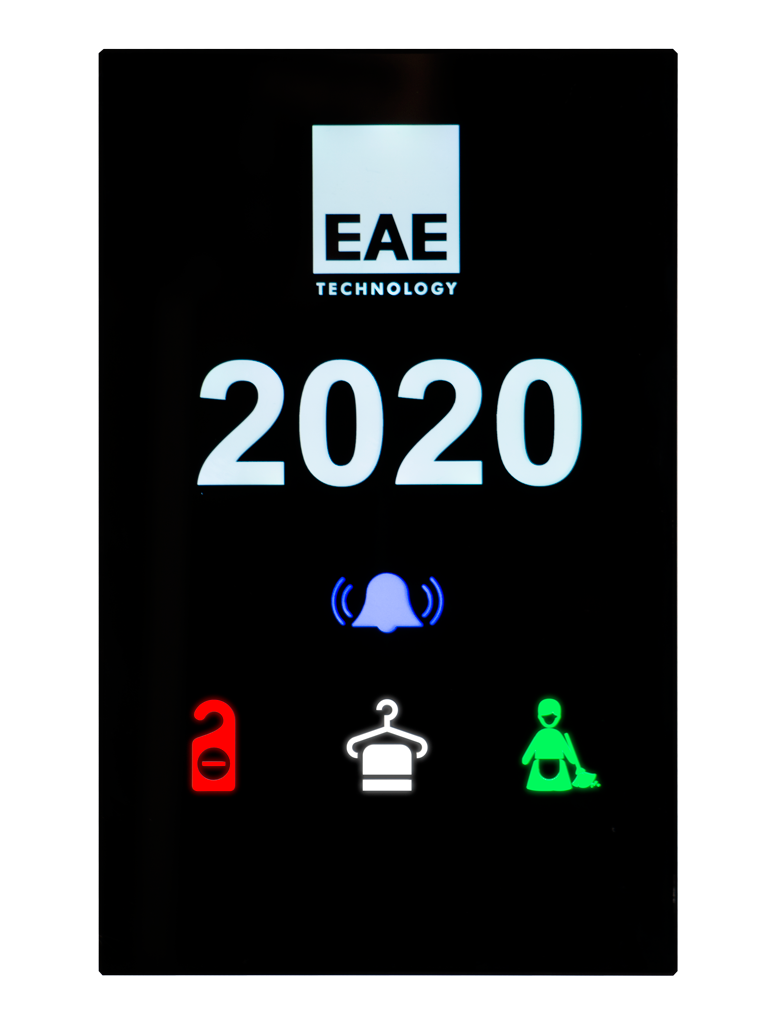 DND/MUR Information Display glass touch screen includes room number, hotel logo, DND, Make Up indicators and doorbell buttons. The doorbell will be silenced, when Do Not Disturb (DND) mode is activated. It is suitable for outdoor use thanks to its IP65 protection.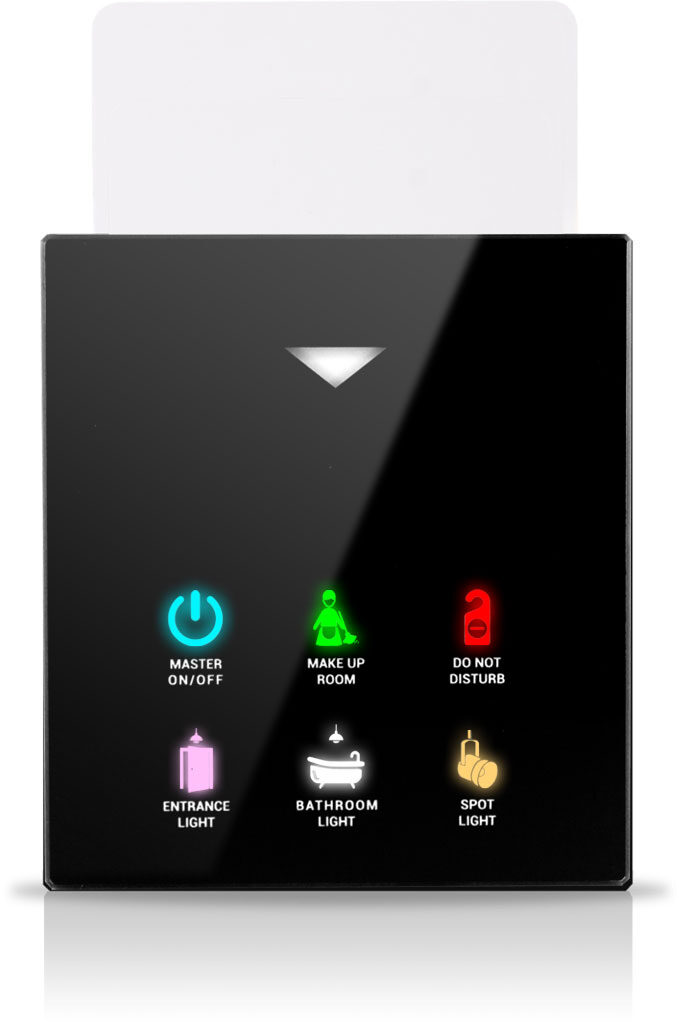 Card holder and switch in one with selectable icons from 1 button to 6 buttons. With the independent programmable buttons on the card holder, it is now much easier to provide the desired control of many functions from one point.
Different types of Mona products can be easily combined in a single piece of glass plate which can be expanded up to 5 modules. Any of these modules can be selected as a switch, thermostat, card holder or socket.
Besides that, behind the scenes are panel devices – Room Controllers, Fan-Coil Actuator, KNX Modbus Gateway, Hotel Room Controller, Power Supplies and Dim Actuators but also Management and Integration Software. As a result of all those devices and software integrated work, GRMS provides many features that make hotel experience exceptional.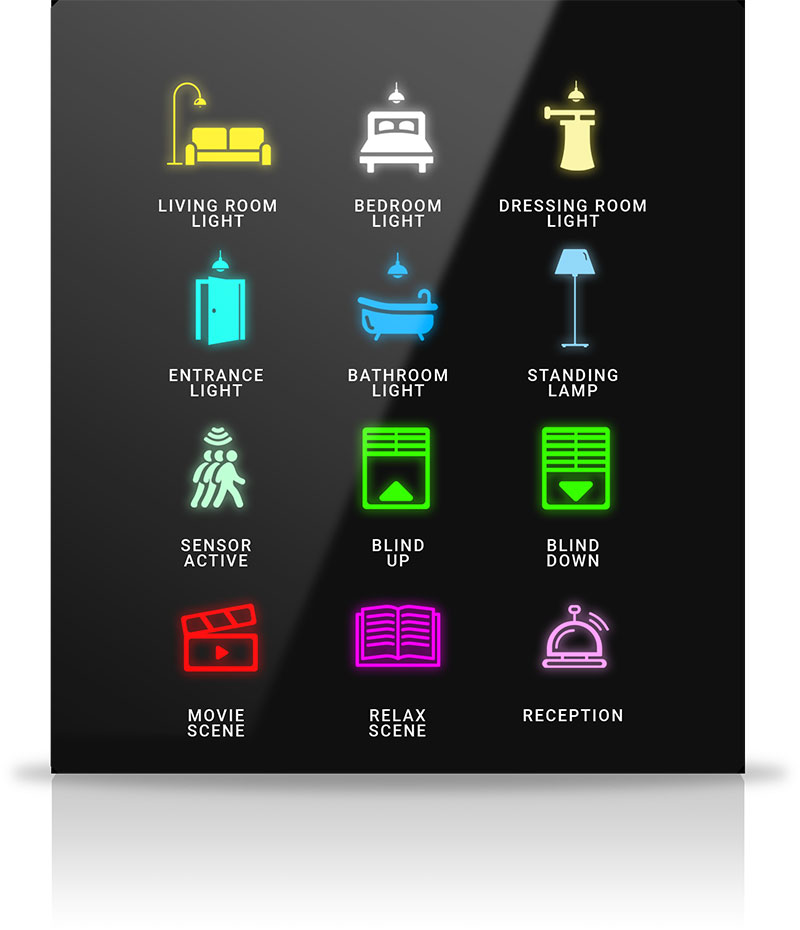 Every guest is different and by offering them the ability to set preferable light color and intensity, hotel management shows appreciation of those differences. Frameless and minimalist designed Mona switches are touch operated. RGB Led buttons come in various color and icon options. Each button on the switch can be programmed independently. Mona Series can work in away, comfort, night and protection mode. Switches and sockets can be brought side by side up to 5 blocks on a single piece of white or black glass.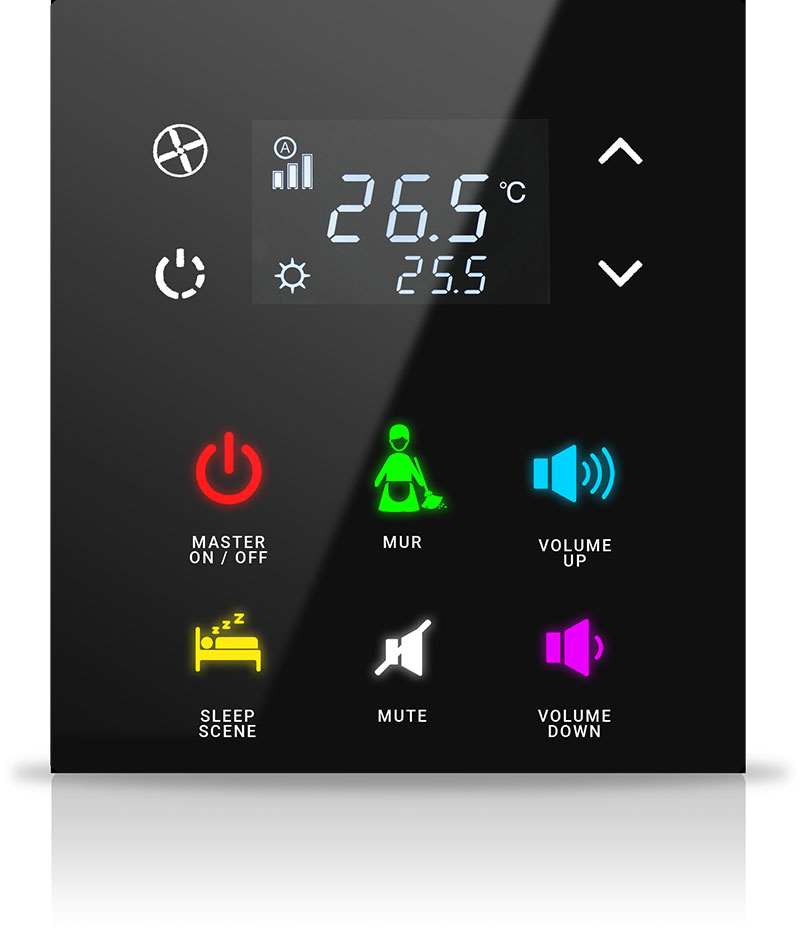 Keeping an optimal room temperature brings comfort to guests and energy saving ability to the hotel. Mona Touch Thermostat design is as fabulous as Mona switches design with 4mm tempered glass surface.  This thermostat provides automatic heating-cooling transition and four work modes mentioned before.
OCCUPANCY BASED SCENE CONTROL
Presence sensors affect scene control. There are different scenarios of KNX-Modbus Gateway:
AC/DC motors can be controlled according to daylight, occupancy and scenes. Nevertheless, GRMS can be integrated with door lock systems, PMS and BMS systems.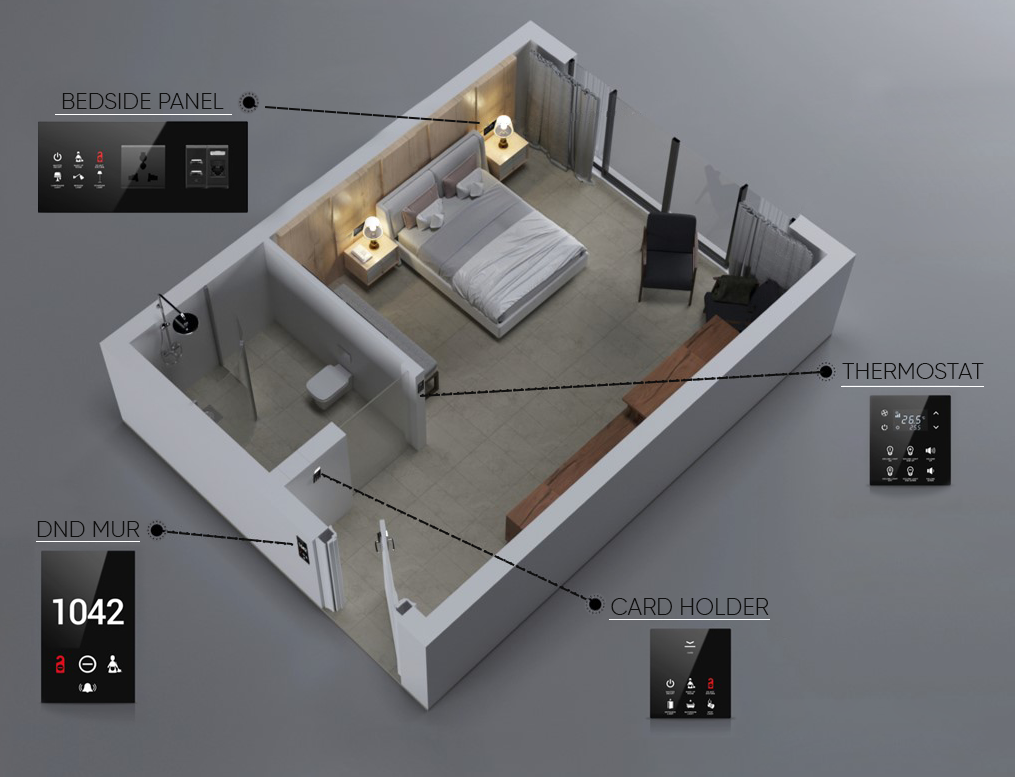 GRMS solution contributes to energy saving  by providing room control based on card system or occupancy. That's not the only benefit for hotels. Hotel management will be informed immediately by EAE's GRMS solution in case of a malfunction in the facility. Choosing this hotel solution is a win-win situation for hotel management and guests. Energy saving, easier and effective system maintenance for management – pleasant and personalized hotel experience for guests. Smart Touch team is working on implementing this system in hotels. Feel free to contact us for more information.
"The key is to set realistic customer expectations and then not to just meet them, but to exceed them — preferably in unexpected and helpful ways."

Sir Richard Branson
Tags: