Among the most popular tablets, the iPad has gained widespread popularity for its sleek design, powerful capabilities, and intuitive user interface. Whether you use it for productivity, entertainment, or as a smart home control hub, the iPad's versatility knows no bounds. One way to take full advantage of this device's potential is by investing in an iPad wall charger.
Why an iPad wall charger?
First of all, by securely mounting the iPad on a wall or any flat surface, users can enjoy seamless access to their favorite apps without the need to hold the device. Furthermore, iPad wall mounts maximize space utilization and reduce clutter. Mounting the iPad on the wall not only frees up valuable surface area but also creates a modern and tidy appearance. Finally, aside from providing convenience, iPad wall mounts also offer an added layer of  protection for your valuable device.
Basalte Eve iPad wall charger
Eve is an elegant docking station for iPad made by Basalte. Users can easily mount the iPad on the wall and keep it permanently charged. A lightweight, minimalist sleeve covers the iPad, and when it's connected to the wall base, charging starts automatically. This wall bases are available in different finishes to fit perfectly into any interior. Last but not least, it has gold-plated charger contacts with child safety protection.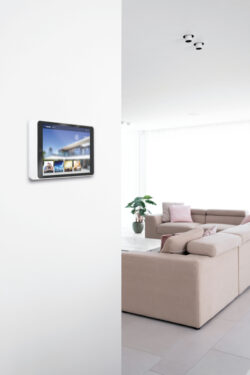 Find out more in the brochure.