Global warming is causing not only climate but also lifestyle changes. Energy saving, recycling and environmental protection have become a necessity. Building an energy efficient building is also an important step towards energy conservation. The importance of building properly insulated buildings powered by renewable energy is unquestionable. Moreover, with a dynamic control system, energy consumption can even be proportional to demand.
KNX
Building automation with KNX ensures the economical use of energy and increases building's energy efficiency. KNX meets the requirements of the top Energy Performance Class for building automation. 
BUS SYSTEM
KNX installation implies bus – the networking of all electrical functions in a single installation which provides optimal coordinated control. The operation of HVAC systems, lights or blinds can be adapted to external climate conditions. Bus devices regulate and control heating or cooling capacity with demand. All electrical driven equipment and installations can be flexibly combined with one another and controlled for efficient building management.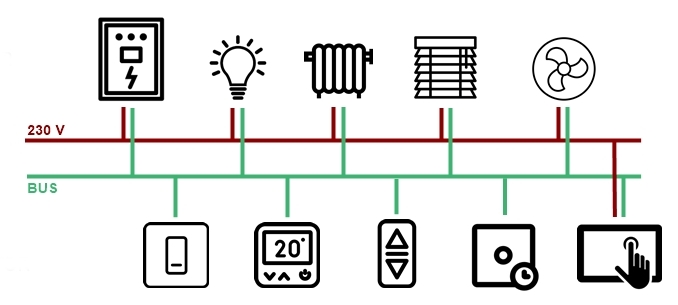 ENERGY MANAGEMENT SYSTEM 
Interconnected energy and building management systems are thus formed which allow energy flows to be regulated according to demand. Nevertheless, high energy consumption caused by faults can also be quickly rectified. KNX also offers optimum solutions with management and visualization systems. 
LIGHTING CONTROL
In many buildings artificial lighting is left switched on for many reasons. Lighting can be adapted to the actual lighting requirement with a timer program. Enhancement of the automation is constant lighting control with optimum use of daylight. Presence-dependent and thus accurate demand-based control systems are ideal for staircases or corridors. Lights with presence detectors can also be operated with increased energy efficiency.
CLIMATE CONTROL
Individual room temperature control promises a clear saving potential. Demand-based energy use can be achieved with a timer program or the presence signal. Additional functions for improving the energy efficiency are provided in combination with lighting control, e.g. daylight redirection, use of solar energy in winter and automatic night cooling in the summer.
MOTORIZED SHADES
Motorized shades provide isolation giving a HVAC system a much-needed break. Shades can be set to open and close automatically on a preset schedule. They can also be paired with temperature sensors that trigger shades to close when a room gets too warm. On winter days, system can open all the shades on the sun-facing side of  home to naturally warm the house and save energy.
SENSOR ALERTS
The Control4 smart home system can be programmed to send alerts. E.g. a smart water valve and sensors can alert of a potential leak and allow an owner to remotely turn off the water. A smart thermostat and temperature sensors can also alert of a significant change in temperature and allow remotely turning off HVAC system to avoid unnecessary energy costs.
COSTS
Direct investment costs for KNX based energy efficient houses are significantly low compared to the resulting savings. Moreover, once the installations and functions have been integrated, further reductions in the energy consumption can be achieved simply through programming, without the need for additional hardware and installations.

Find out more on KNX official webpage or contact us to find a best automation solution for your energy efficient home.

Tags: